Posters on A14 bridges warn Suffolk motorists of falling objects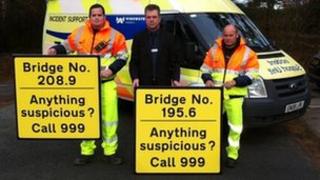 Posters are being placed on 31 bridges over the A14 and A12 in Suffolk by police aiming to catch those reponsible for dropping objects on to vehicles.
The posters say, "Spot Anything Suspicious? Call 999", and include a bridge reference number.
They are part of a police investigation following four separate reported incidents of vehicles being hit by objects during December.
Extra patrols are taking place around bridges and on key county routes.
Ch Supt David Skevington, said: "Our investigations are continuing into these incidents and motorists using the key route network in Suffolk could provide us with important information.
"Hopefully, these signs will prompt motorists who see anything suspicious to get in touch immediately, after finding a safe place to stop and make a call to us.
"Fortunately, no-one has been injured in these incidents but it goes without saying that throwing anything from a bridge on to a busy road has the potential to result in road traffic collisions causing serious injury or even death."