Harbour Inn at Southwold flooded again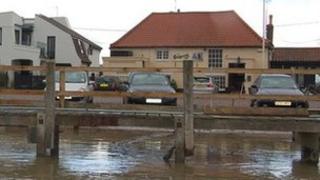 A pub on the Suffolk coast has been flooded for the ninth time since November.
The Harbour Inn, at Southwold Harbour on the River Blyth, closed on Thursday due to rising waters, but it opened again on Friday.
The pub is half a mile inland from the mouth of the river in an Environment Agency flood risk zone.
Nick Attfield, pub landlord, said: "I knew what I was taking on and it's part of the charm here."
The River Blyth is a tidal estuary surrounded by flood plains which extend 10 miles inland beyond the A12 at Blythburgh.
The river regularly bursts its banks, but the pub landlord said the water often comes up through the floor as well.
'Minimising damage'
Equipment in the ground floor kitchen is on wheels so it can be moved easily, fridges have the electrics at the top and the plug sockets are near the ceiling.
Mr Attfield, who became a tenant at the pub two years ago, said: "One of the big considerations was how we were going to deal with the water coming in.
"It's just about minimising damage and getting open as quickly as possible so you don't lose trade.
"You just have to accept it and there's nothing much more that can be done, unless you build a filthy, great concrete wall in front of the pub, but I still think it would bubble through from underneath."
Mr Attfield said the pub is "technically uninsurable", but the building is covered by the brewery's own insurance.
The Environment Agency said it was in ongoing discussions with the Blyth Estuary Group of local authorities, businesses and landowners on how best to manage the flooding in the area.