London 2012: Lowestoft gym hosts Australian and Canadian hopefuls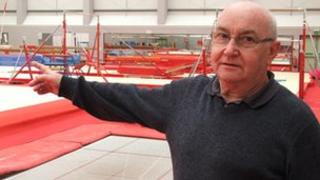 Gymnasts from Australia and Canada are in Lowestoft and are using the town as a base as they try to qualify for London 2012.
They have joined members of the British team at Waveney Gymnastics Centre ahead of a final qualifying event in London.
Both visiting nations have said they would come back to Lowestoft for their pre-Olympics training camp.
John Pawsey, chairman of the gym, said: "We try to make them very welcome and make sure they come back."
The gym, which was built by Waveney Gymnastics Club (WGC) in 2002 at a cost of £1.4m, features the same equipment which will be used in the Olympics gymnastics arena at Greenwich.
Mr Pawsey said: "We moved very quickly to make sure we were part of the pre-games training guide and we're now in the position where we've got three international teams here."
'Winning medals'
The Japanese trampoline team has also been training at the gym.
Adam Sachs, performance manager with the Australians, said: "Our athletes are excited about the opportunity to train in this elite daily training environment.
"The WGC's willingness to assist us in our preparation gives us great confidence that our athletes and coaches will be able to remain focused on the job at hand - winning medals."
Richard Perkins, a director of Suffolk Chamber of Commerce who is a commercial property surveyor in Lowestoft, said: "It's very important for Lowestoft and there will certainly be benefits to hotels, restaurants and transport providers.
"As we find out who does qualify, more local people will become aware of the Olympians being here, and we're hoping a real buzz is generated.
"We would sincerely hope that this will lead to a greater understanding of what leisure facilities we have here for any visitor to the area as well as locals."
The final qualifying test event takes place at the North Greenwich Arena on 10-18 January.