Archant sheds 14 jobs in Ipswich Evening Star cuts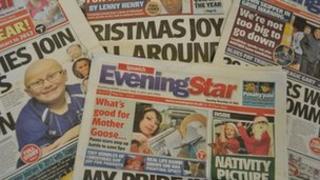 Newspaper publisher Archant is to cut jobs in Suffolk as it changes the name of the Ipswich Evening Star and ceases printing a Saturday edition.
Fourteen of the 91 editorial staff working across the Star and sister paper East Anglian Daily Times will lose their jobs under the changes.
The new-look paper will have two names, The Ipswich Star and The Felixstowe Star, and will launch on 23 January.
Editor Nigel Pickover said it was due to the "chill winds of the economy".
The Evening Star is based in Lower Brook Street and launched in 1885 as Star of the East before changing its name in 1893.
Mr Pickover said: "We've come up with a plan that takes The Star forward - we're 126 years old and want to be here in another 126 years' time and not lost to the annals of history."
'Wretched' news
The Ipswich Star and the Felixstowe Star will be printed Monday to Friday and will focus on news and sport.
Mr Pickover said other options considered, including making the paper a weekly title, would have resulted in more job losses.
Tim Dawson, chairman of the Suffolk branch of the National Union of Journalists (NUJ), described the news as "wretched".
He said: "Each year it seems Archant get rid of 10% or so of their staff, each year the product gets degraded a little bit and becomes a less important part of life in the town.
"There are some hugely talented people working at Archant. They're a company in profit and what they should be doing is investing in their product and looking for new ways of reaching into markets with social media and reader interaction.
"These are all people who will probably be lost to journalism, they'll probably be lost to Suffolk and that is a sad thing for us all."