Felixstowe Spa Pavilion campaigners want more time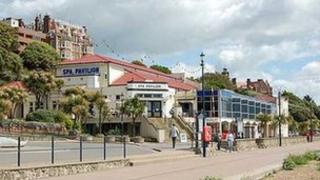 Campaigners for Felixstowe's Spa Pavilion have called for more time to save the theatre from closure.
Suffolk Coastal District Council says it cannot afford to spend £250,000 on annual maintenance and £3m to bring the theatre "up to modern standards".
The theatre will close in June if alternative funding cannot be found, but Save the Spa Campaign says it needs until January 2013 to find a solution.
The council's scrutiny committee is discussing the theatre next Thursday.
Conservative councillor Geoff Holdcroft said audience figures had declined over the past four years, making the theatre unsustainable.
Lisa Hardy is the production manager for Stage Door Theatre Company and is one of the co-ordinators of the Save the Spa Campaign.
'Atrocious'
She said: "There's very little we can do in a six month period, so that's our short-term aim, to get this deadline extended hopefully to January 2013."
Ms Hardy said a closed theatre would also be detrimental to the town's tourist trade.
"During the summer, having that building boarded up will look atrocious," she said.
"It's not going to invite people down to the seafront, and with all the work that's been done at the moment Felixstowe should be buzzing during the summer months."
The group will be present at the council meeting next week but is also looking to Lowestoft, where a charitable trust last year took over the running of the Marina Theatre from Waveney District Council.
Suffolk Coastal District Council said it could not comment further on plans until after next week's meeting.