Grant to help £3.4m Holywells Park scheme in Ipswich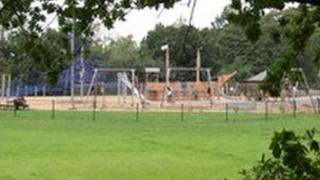 A £3.4m scheme to revamp a park in Suffolk has moved a step closer after being awarded a £182,580 development grant by the Heritage Lottery Fund.
The grant aims to help supporters of Holywells Park in Ipswich put in a full application for funds to restore the 67-acre site.
Ipswich Council's executive committee is looking at the scheme on 10 January.
It is being recommended to appoint consultants to advise on submitting the plans for a full lottery application.
The council hopes it can secure a £2.8m grant from the Heritage Lottery Fund, with the rest of the funds coming from the council and volunteer support.
The plan would include improvements to a Grade II listed orangery and stable block.
Other proposed improvements included the installation of boardwalks and creation of fishing platforms and work on the park's pond system.