Live and Unsigned investigated over prizes claims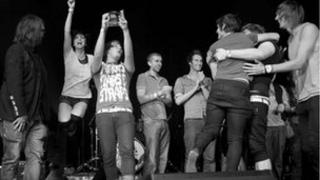 A talent contest dubbed the "UK's largest competition for original music" is being investigated over claims of false advertising.
Live and Unsigned is being probed by the Advertising Standards Authority (ASA) following a complaint from Ipswich band, Underline The Sky.
The group won the rock category of the competition in 2010 but say they are yet to receive the advertised prizes.
Chris Grayston, events director for Live and Unsigned organisers Future Music, has denied the claims saying the band had been offered "far more than they had won" but had declined alternative prizes or failed to respond to offers.
Underline The Sky hoped to receive prizes of an all-expenses paid trip to perform at a festival in India, a slot on the main stage of the Hellfire Festival in Birmingham and an amplifier worth £1,500.
Mr Grayston said the festivals had been cancelled by the promoters and were therefore out of Future Music's control.
He added the amplifier was originally advertised as a prize for the rock category but removed before the final. He said acts were notified of the change.
'Incredible experience'
Live and Unsigned began in 2007 and claims to attract more than 40,000 entries per year from aspiring musicians, who pay to enter the competition.
Acts compete for places in the grand final at the O2 Arena in London.
Other previous winners said they did receive allocated prizes.
The Robbie Boyd Band said they had "an incredible experience playing to a packed out Italian crowd" as a prize for winning the alternative category in 2011.
And singer Lucy Spraggan said when a promised trip to Australia fell through Future Music supplied an adequate replacement, and they continue to enjoy a good working relationship.
But Welsh band The Loaded Dice, who won the indie category in 2009, were unhappy with how they were treated.
The advertised prize for the indie winners read: "The winning acts are offered a recording and management contract with Future Music with an investment of up to £20,000 to release their single including professional studio time, promotional campaigns and more."
A spokesperson for the band said: "The offered contract did not appear to contain anything tangible in terms of actual commitment to the band getting the prize money of up to £20,000 investment."
"Ultimately, we did not sign the contract; it did not meet our expectations or our interpretation of the competition terms and conditions, and consequently we didn't receive any form of prize."
Mr Grayston said he did not hear back from the band after the management contract was offered to them.
'Shambles'
In July 2011 The Trinity Band from Derby were crowned overall winners.
They were promised prizes including a management contract with Future Music, financial investment of "up to £50,000" and a UK tour comprising up to 100 shows.
The band were also awarded a sponsor's prize of performing at a festival in Canada.
The Trinity Band crossed the Atlantic in September but two months later severed their ties with Future Music, saying the trip was a "shambles" and the working relationship had been a disappointment.
They said two unpaid gigs were booked within the UK, one fell through and Future Music would not contribute any money to cover the five-piece band's expenses.
A spokesperson for the band said: "How are we out of pocket when we have just supposedly won £50,000 investment?
"After winning a so called largest unsigned competition in the country we believed there would be a machine or system in place, interviews set up, or a team from our management working on this for us."
Future Music said it had invested in The Trinity Band, including paying for studio time, recruiting a bookings manager and improving their online profile, but said they lacked the "organisation and drive to be a very successful band".
In an email to the band, Mr Grayston said "we have failed to meet your aspirations, we haven't failed in delivering what was promised".
Winners of the 2010 competition, Manchester band The Lottery Winners, backed the competition.
Thom Rylance from the band said: "If I'm asked, which I often am, if I would recommend a band to enter Live and Unsigned I'd say, 'Of course you should, but don't expect to just become famous overnight, even if you win it, because it just doesn't work that way'."
As for Underline The Sky, singer Bronwyn Cooper said the band lodged the complaint with the ASA because "we don't want any other band to go through what we went through".
The ASA has yet to rule on the band's complaint.