The Junction youth services centre opens in Lowestoft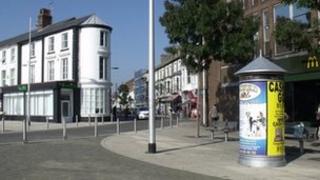 Youngsters in Lowestoft say a new youth services centre is not a replacement for a youth club which shut in July.
Suffolk County Council has opened The Junction which aims to provide advice on health, jobs, schools and careers.
But The Junction does not offer a "hang-out" like The Metro, which the council closed.
Lee Cuthbertson, 21, who has been advising the council, said: "We're hoping we can find an organisation to open a youth club somewhere else."
The Conservative-controlled county council closed The Metro open-access youth club during the round of £42.5m cuts to its 2011-12 budget.
It has opened the new centre on Bevan Street which will offer the advice services which used to be provided at The Metro and at Connexions, which has also closed.
'Incredibly expensive'
Graham Newman, county councillor with responsibility for young people's services, said: "We really wanted to focus on supporting young people who had problems, so it's not like everything's gone.
"There was an 'open access' component to the work we were doing, such as going down for a drink, a game of darts or table tennis, but we are trying to pull out of those services because they're incredibly expensive to run."
A group of young people who used The Metro told the council that The Junction should offer a "one-stop shop" for advice on a range of different things.
Mr Cuthbertson, a member of that group, said: "I wasn't a troubled youth myself, but I had my high and low points and the youth service helped make me a better person.
"But this isn't a hang-out place and the town still needs a youth club because they are vital."
Although the council no longer provides its own youth club in Lowestoft other groups can use The Junction, and the Lowestoft Community Church will be meeting there once a month.