Ipswich council criticised over Waitrose plan backing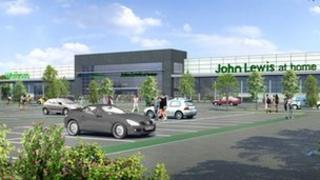 A decision to approve a plan for a Waitrose store on the outskirts of Ipswich will be detrimental to the town centre, a rival developer claims.
Ipswich Borough Council has granted planning permission for a supermarket and a John Lewis at Home at the former Cranes factory site on Ransomes Way.
However, Turnstone Estates, which owns town centre land, said it will make it harder to attract stores to its site.
The council said it had to consider the application in front of it.
Nigel Keen, director of development at Waitrose, said he was "delighted" and claimed 1,500 jobs could be created if other retailers were now attracted to the site.
"In a difficult time for businesses, we are pleased to be able to make a commitment to the town, which can deliver new jobs and encourage others to invest here," he said.
Turnstone owns the town site of the former civic centre building.
It has planning permission to redevelop the site for retail use, but it has not found an "anchor" store yet.
Chris Goldsmith, of Turnstone, said: "We understand the desire for a Waitrose and John Lewis at Home, but the Cranes factory is the wrong location and it will make any retail-led redevelopment in Ipswich town centre even more difficult to attain.
"It will send a signal to any national retailer thinking of coming to Ipswich that the council is doing nothing to actually ensure the town centre has a viable, long-term future as a major regional shopping destination.
"If the council is serious about wanting to safeguard the town centre then it must not allow yet more out-of-town retail-led development."
Councillor Carol Jones, portfolio holder for economic development and planning at Ipswich Borough Council, agreed that a town centre development would make more sense.
Land 'cleared'
"The best news would have been a John Lewis at Home in the town centre, but you can't make developers make applications exactly where you want them to go," she said.
"If [Turnstone], as experienced developers, couldn't persuade John Lewis to go [to the town centre], then that's where we are.
"We had to make a decision on what we'd got in front of us and it pays for the cleaning and clearing of the largest piece of employment land in the borough."
Waitrose is due to open a small convenience store in the town centre Corn Exchange in February next year.
It expects to have the Ransomes Way store open by spring 2013.