Ipswich Hospital runs out of beds 106 times in four months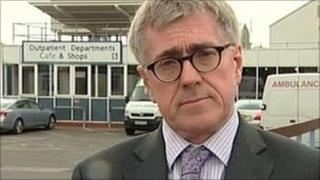 Ipswich Hospital has run out of beds for patients 106 times since September.
The hospital places itself on black alert when the number of patients in its accident and emergency department outnumbers the available beds.
Chief executive Andrew Reed apologised to people who had been made to wait on trolleys in corridors, but said things were improving.
He said: "We had nine full days so far this year where we've been on black alert, that compares to 26 last year."
Mr Reed said hospital staff monitored the availability of beds three times a day and that in most instances the black alert was for a short period of time.
He said: "Our nurses and other staff work very hard to ensure we can discharge people as smoothly as possible, but also we have seen a drop in the number of emergency admissions we have had this year.
"The reason for that is we are now operating a telephone triage system, which means consultants talk to GPs when the GP wants to refer a patient to hospital and discusses with them what might be done other than admitting a patient into hospital."
'Surge in demand'
The James Paget Hospital was on black alert only three times during the same period, one of which was a full day.
Mr Reed said it was difficult to draw a comparison as every hospital had its own system for measuring when it was over capacity.
Tim Roberts, regional officer for UNISON, said black alerts were a sign that Ipswich Hospital was being overly stretched.
He said: "There are issues around how the trust manages its resources.
"I think it's now trying to minimise costs and cut as much as possible, and what that means is there isn't any capacity in the system for when there is a surge in demand.
"They have to resort to things like placing temporary beds in corridors, and obviously that isn't good for the patients."
The hospital has debts of more than £11m and is expected to cut up to 250 jobs.