London 2012: Bury St Edmunds hosts Rwandan Olympic team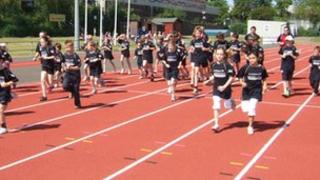 Bury St Edmunds is gearing up to host the Rwandan Olympic and Paralympic teams by forging educational links.
About 20 athletes will hold a two-week training camp in the Suffolk town before moving to the London 2012 Olympic village.
A charity has been set up to try to raise £80,000 to help provide equipment for 140 schools in Rwanda.
Part of the fundraising drive is a 6,000-mile charity cycle ride from Bury to Rwanda.
Daniel Beniston, attache for the Rwandan teams, said: "We wanted a location that was extremely keen to host the teams and I did site inspections based upon facilities, eagerness of the local community and we were looking for something that was quintessentially English."
Rwanda has never won an Olympic medal, but Jean de Dieu Nkundabera won a bronze in wheelchair racing at the Athens Paralympics in 2004.
Mountain bike event
The full size of the Rwandan teams will not be confirmed until May.
But the cyclist Adrien Niyonshuti has already qualified for the Olympic mountain bike event, while the sitting volleyball team has qualified for the Paralympics.
They will use the track, swimming and training facilities at Bury St Edmunds Leisure Centre.
David Bayliss, leisure officer at St Edmundsbury Borough Council, said: "It wasn't just the sports facilities that won it.
"We wanted schools, business and culture to be involved and so far it's proved very successful.
"Sport isn't on the curriculum in Rwanda and we are hoping to help sort that out for them."
Sport for Rwanda is the charity which has been set up and one of the fundraising activities is the bike ride by a team of four.
They will leave Bury St Edmunds on 28 April 2012 and spend 70 days cycling to Rwanda via Harwich, Athens and Cairo.
Peter White, a team member who went to County Upper School, said: "The biggest challenges are going to include cycling across deserts in Sudan in 100F (38C), across mountains in Ethiopia which are 3,000m in height, cultural and language challenges and just trying to eat and drink enough.
'Far simpler things'
"We'll be trying to visualise completing the challenge in Kigali [the capital of Rwanda] to motivate us."
Local schools have been involved with fundraising activities and learning about a country which saw the genocide of hundreds of thousands of people in 1994.
Philippa Strachan, 15, who visited Rwanda and its National Genocide Memorial Museum in the summer, said: "Many young people seemed full of hope for the future, even though sometimes their friends or relatives had been killed.
"I was surprised that some facilities in Kigali were quite close to what we have in the UK.
"However it is impossible to miss the poverty in the large number of slums and poorly built houses around the city."
Vicky Neale, head teacher at County Upper, said: "Young people here have so much electronic media and they came back with the idea that young people out there manage without that and are grateful for far simpler things.
"So it made [UK pupils] think about whether they constantly needed to be on their phones or on Facebook."
The Rwandan Olympic team is due to arrive in Bury St Edmunds the day before the Olympic torch passes through the town on 7 July.