Man suffers fatal crush injuries at Port of Ipswich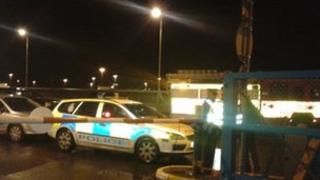 One man has been killed and another seriously injured in an industrial accident at the Port of Ipswich in Suffolk.
The two men are believed to have been crushed by a floating pontoon early on Friday evening, police said.
The injured man was taken to Ipswich Hospital about two miles from the docks but his condition is not yet known.
The Health and Safety Executive has been informed and police will be carrying out a joint inquiry.
A spokesman for East of England Ambulance Service said two ambulances and a fast response car were called to the scene at 17:57 GMT.
The men are believed to have been loading the metal pontoon onto a flat bed trailer with a crane when the lorry overturned crushing the men.