Tower Ramparts Shopping Centre bought by LaSalle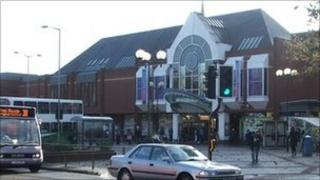 The troubled Tower Ramparts Shopping Centre in Ipswich has been bought by the developer LaSalle Investment Management.
The centre has 38 units and currently about 15 are empty.
Announcing the purchase, LaSalle described the current state of Tower Ramparts as "neglected" and "tired and in need of revitalisation".
Gavin Ingram, asset manager at Lasalle, said: "Our aspirations are to rejuvenate the shopping centre."
The town centre master plan, overseen by Ipswich Borough Council and Ipswich Central, is out for consultation at the moment and it aims to link the main shopping area with the waterfront in a north-south direction.
'Game-changing'
Mr Ingram said: "We expect Tower Ramparts to become the northern axis point for Ipswich town centre and we are already in talks with various national retailers regarding the potential for the scheme."
Paul Clement, executive director for Ipswich Central, said: "I have never hidden the fact that Ipswich's retail offer needs to be improved but, in order to achieve this, a 'game-changing' transaction needed to be brought forward.
"I am delighted that this work has already led to new investment, and we will be working very closely with LaSalle to help deliver our joint plans."
LaSalle has also been involved in developing Felaw Maltings on Ipswich waterfront, Ipswich Borough Council's Grafton House headquarters and retail parks such as Castle Marina in Nottingham and Braidwater in Northern Ireland.
Mike Sorhaindo, the existing Tower Ramparts centre manager, said: "LaSalle has a fantastic track record in managing shopping centres with a portfolio of over 100 throughout the world, so we couldn't ask for a better leader.
"Ipswich has a strong retail offer, but there are many brands that are not represented and it's about us having those negotiations and trying to entice them to Ipswich."