Mildenhall Museum wins a £423k Heritage Lottery grant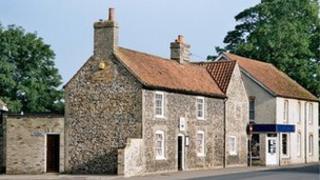 A Suffolk museum has been awarded £423,000 from the Heritage Lottery Fund.
The Mildenhall and District Museum will use the money to build an extension and improve its displays.
A new activity manager will also be employed to set up new learning programmes and outreach activities.
Peter Merrick, chairman of the Mildenhall Museum Society, said they were all "delighted" to receive the money.
The museum was set up by the Mildenhall Natural History and Archaeological Society in 1951.
As well as telling the story of the town from Neolithic times to the modern day, the museum has information about the Mildenhall Treasure.
The haul of Roman silver tableware from the 4th Century AD was discovered in a field at West Row in 1943.
The society plans to use the lottery money to build an extension to house a display of an Anglo-Saxon warrior buried with his horse, discovered in Lakenheath.
Mr Merrick said the grant would also be used to carry out essential maintenance and improve access to the building.