'Bling' dummies seized by Suffolk Trading Standards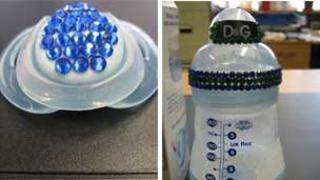 "Dangerous" dummies, baby bottles and feedings bowls adorned with diamante gems have been seized by Trading Standards in Suffolk.
The "bling" accessories pose a serious risk to babies and children and were found for sale across the county, a spokesman said.
The county council has warned parents not to buy the items, which have failed all safety tests.
Investigations into the source of the products are continuing.
Choking risk
The dummies and baby bottles were found to be genuine brands with hand-glued gems, beads and magnets added to them.
Beads had also been threaded on to dummy clips, all of which could result in choking, inhalation or ingestion, the county council added.
Similar products have been found elsewhere in the UK and Suffolk Trading Standards is now addressing the issue with colleagues in Northumberland.
Colin Spence, portfolio holder for public protection, said: "Baby bling accessories are a very dangerous trend.
"We would like to encourage anyone in possession of one of these items, or anyone who knows of a trader selling them locally, to contact us immediately.
"Any adhesive labels or decorations are strictly prohibited from being fixed to these items in any way so any bling accessories seen on sale should immediately ring alarm bells."
Identified sellers in Suffolk have been contacted and advised accordingly, the county council added.