RSPB Havergate Island's avocets to get £45,000 funding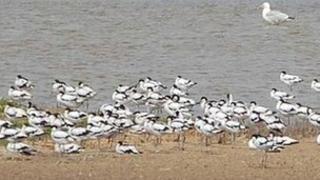 Breeding conditions for avocets and other birds on RSPB Havergate Island are being improved thanks to a £45,000 grant.
The money from Biffaward will be used for a habitat restoration programme, including water level management.
The RSPB said it would also be restoring nesting islands used by avocets and terns by covering low earth islands with shingle.
The nature reserve near Orford is closed until March.
Aaron Howe, RSPB south Suffolk site manager, said: "This will allow us to restore and replace sluices so that we can have excellent control of water levels with Havergate's shallow salt-water pools."
The RSPB bought the island after the discovery, in 1947, of the first pair of avocets to breed in the UK for over 100 years.
Biffaward is a fund which uses landfill tax credits donated by Biffa Waste Services to fund community and environmental projects.