Suffolk schools close due to national strike over pensions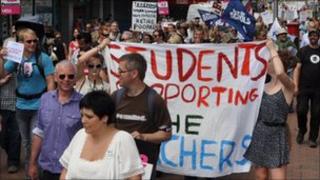 More than half of Suffolk's schools will be closed on Wednesday due to the national strike over public sector pensions.
By Tuesday afternoon, 183 of the 348 schools in the county had announced they would close and many of the others confirmed partial closures.
Suffolk County Council urged parents and carers to find alternative childcare arrangements.
Union marches will take place in Bury St Edmunds, Ipswich and Lowestoft.
The council said it would continue to update its school closure list .
'Incredible day'
About two million public sector workers from 30 unions are expected to join the strike on Wednesday.
Picket lines are expected across the county - including at Ipswich and West Suffolk hospitals, the UK Border Agency in Felixstowe, RAF Lakenheath and RAF Mildenhall.
Glyn Hawker, regional secretary of the Unison trade union, said: "It will be an incredible day."
Secretary of State for Education Michael Gove said public sector unions "want to provide a platform for confrontation just when we all need to pull together".
He said it was "unfair and unrealistic" to expect taxpayers to foot the increasing public sector pensions bill.