Ipswich Hospital seeks £3m funds to cover redundancies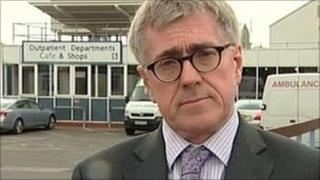 Ipswich Hospital is hoping to secure about £3m of funding to help cover redundancy payments.
The hospital has more than £11m of debts this year and is expected to cut up to 250 jobs.
Hospital management said talks had been held with primary care trust NHS Suffolk about the funding but denied it equated to a bail out.
Chief executive Andrew Reed said the money would also be used to "improve quality and efficiency".
He said: "Transition funding is part of a national initiative set out by the Department of Health and many trusts are working with their primary care trusts to use it to support change."
As well as supporting the cost of redundancies, Mr Reed said the money would be used to extend consultant cover in the hospital's Emergency Assessment Unit to weekends.
Management criticised
The plans would have to be approved by the NHS Suffolk board.
Central Suffolk and North Ipswich MP Dr Dan Poulter welcomed the "much needed lifeline" but was critical of hospital management.
The Conservative MP estimated the hospital's liabilities at £45m, which would include the money owed on the Garrett Anderson Centre.
He said: "I'm certainly not going to, at this stage, call for the chief executive to resign but if I were in the position of presiding over a failing trust I would seriously be considering my own position.
"We need to see the board of Ipswich Hospital standing up and holding the chief executive and his team to account and making sure they deliver better value for money for patients.
"Andrew Reed and his team have racked up huge debt and the question is are they the right people to take the hospital back and put it straight?"
The hospital declined to respond to Dr Poulter's comments.