David Cameron praises Beccles lido volunteers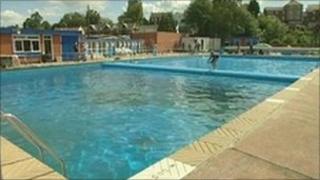 A group of volunteers who reopened an outdoor swimming pool in north Suffolk have been praised by Prime Minister David Cameron.
Waveney District Council closed Beccles Lido in 2009 because it could not afford maintenance costs.
A group of campaigners formed Beccles Lido Limited, leased the pool and reopened it last year.
Mr Cameron said their work "shows the great things that can happen when the power of a community is unleashed".
The group said the lido attracted about 30,000 people this summer and that it had turned a previous £60,000 annual loss into a profit.
They have been given a Big Society Award in recognition of their work.
Maureen Saunders, one of the directors of Beccles Lido Limited, said she was thrilled with the recognition and thanked the local community.
She said: "We've had over 10,000 hours of volunteer help over the last couple of years.
"If you translate that to money at basic wage it's a lot, so we're really thankful to them."