John Peel Centre in Stowmarket gets £500,000 Biffaward funding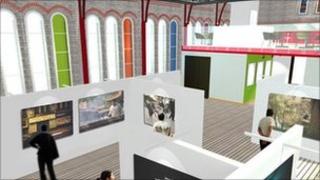 The John Peel Centre in Stowmarket has been awarded £500,000 for the next phase of its £1m development.
The money comes from Biffaward and it will go towards turning the town's Corn Exchange into an arts centre.
Internal work to install a mezzanine floor, cafe, staging, and light and sound systems is due to begin in May.
Andrew Stringer, a centre director, said: "We are just beside ourselves that we have been selected and given this wonderful amount of money."
Radio presenter Peel was a long-term resident of the Stowmarket area before his death in 2004.
The centre has already undergone some redevelopment work to enable a limited number of events to take place.
The community interest company which runs the centre still has to raise about £300,000 to press ahead with next year's work.
Landfill tax
Mr Stringer said: "This won't complete the process - we still have to do an awful lot of fundraising - but it shows that people have realised what the facility could do and wanted to back it."
John Spitzer, another centre director, said: "This is brilliant and we are very pleased to be awarded this grant and appreciate the assistance and contributions of our other funders that have enabled us to secure the necessary funding to help us with the building work."
Biffaward is a fund which uses landfill tax credits donated by Biffa Waste Services to fund community and environmental projects.
Gillian French, Biffaward programme manager, said: "Funding to projects like this can make it possible for communities to introduce lifelong learning opportunities.
"People's lives can be changed through unique educational work, and we believe that the creation of the John Peel Centre for Creative Arts will impact greatly on those in and around the area."