Suffolk domestic abuse victims in book project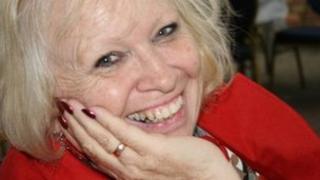 Victims of domestic violence in Suffolk have written about their experiences for a book highlighting the extent of the crime.
Reported cases of domestic violence in the county went up by 6% to 7,400 last year, on the back of a 14% rise the previous year.
The book, called Every Six Seconds, features writing from women who use the Lighthouse women's refuges in Ipswich.
The charity runs two refuges with beds for 23 women and their children.
The county council and Suffolk Police's County Domestic Abuse Forum is marking White Ribbon Day on Friday with an event at the council's headquarters to raise awareness of the issue.
Joan (not her real name) began using Lighthouse after she left an abusive, controlling relationship which she said included rape, beatings and abuse towards their son.
'A terrible state'
"This person was a lot younger than me and he seemed to become obsessed with me and it turned into 'secret' violence," she said.
"I went to the doctors in a terrible state and they got social services in, but he still kept breaking injunctions and I had to go in a refuge 100 miles away with my baby.
"I came back and he came along drunk and he dragged me through a park and he was trying to kill me.
"I've got to bring up my son on my own, but it's better than being in an abusive relationship."
Another woman, who was married for 10 years and had two children, said her husband was mentally abusive and controlling.
"You don't really know any different but I do remember feeling trapped, but you just can't find the door to get out," she said.
Healing process
"The pram was kept in his car and I always had to explain where I wanted to go. I was given money for food, but I had to show receipts.
"You need to talk to somebody if you're really frightened and I went to the doctor because it was affecting me physically and I didn't know stress could do that to you."
Lighthouse said the book was named after the frequency of assaults on women by a partner or ex-partner in the UK.
It grew out of a creative writing course the charity was running.
Jacqui Worbey, community services manager for Lighthouse, said: "The fact that women can put down on paper the emotions they felt internally brings it home.
"It allows them to look at it, deal with it and start that process of healing.
"We've done it in a way so that the prose and poetry shows there is hope and light at the end of the tunnel."
One of the women said of using the refuge: "Not pretending is a great thing - you can be yourself and I didn't know who I was and now I know who I am.
"I can do things for myself and it's better for the children as well."