Runner Neal Goldsmith records personal best without running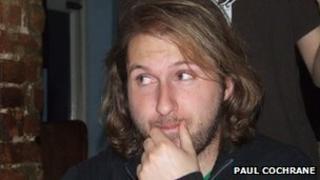 An amateur runner beat his personal best time in a Suffolk 10K race by eight minutes and achieved a top 20 race finish - without breaking a sweat.
Neal Goldsmith, 34, pulled out of the race in Southwold on Sunday with a cold and instead went as a spectator.
He said he had his race kit in his bag, which included a chip timer that records start and finish times.
Mr Goldsmith unknowingly triggered the device by walking over the start line and then across the finish 39 minutes later.
The masters degree student said he realised a mistake had been made when friends got in touch to congratulate him on his performance in the Southwold 10k race, in Suffolk.
He then had to admit he had not taken part.
Mr Goldsmith, from Ipswich, was given a time of 39:34 minutes in the official results.
The race organisers said they had been unaware of the mix-up and Mr Goldsmith's time was logged, placing him 20th out of about 570 runners.
In last year's race he recorded a time of 48:59 minutes, which saw him finish 177th.
His personal best time for a 10K (6.2 mile) race currently stands at 47:42.
'Very surprised'
Mr Goldsmith, who works part-time at Woodbridge Antiques Centre, said: "I clearly need to run less to improve my times."
He has since contacted race organisers Adnams to explain.
"I was very surprised when people got in touch and didn't realise what happened," he said.
"I don't know why I still had my kit with me but I never thought the chip timer would start in my bag. I didn't even realise I had crossed the start and finish lines."
The race, now in its third year, was started by former British Olympic athlete Steve Cram.
A spokeswoman for Adnams said: "Neal got in touch as soon as he realised what had happened. We've found it very amusing and appreciate his honesty.
"The results have now been amended."