Kiln Meadow in Ipswich 'no longer for sale'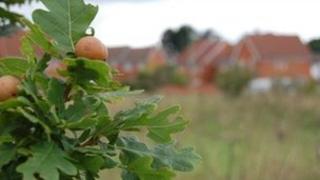 An Ipswich meadow, home to a large population of toads, will not be put up for sale again for housing, Ipswich Borough Council has announced.
Developers had planned to build more than 100 homes on the 11-acre Kiln Meadow in Pinewood before planning permission expired last October.
The council has now decided it will look into ways of managing the land rather than looking for another buyer.
Ipswich Wildlife Group said it was "delighted with the decision".
Chairman Ray Sidaway said: "It's a really important site - it's got dormice in hedgerows, reptiles in the meadow, slow worms, grass snakes, lizards and a huge population of toads, around 7,000."
The land is owned by Ipswich Borough Council but falls into an area controlled by Babergh District Council.
'Wildlife value'
Mr Sidaway said the impact on the environment had not been fully considered when looking at the development and hoped wildlife experts would be consulted on future plans.
David Ellesmere, leader of Ipswich Borough Council, said his Labour group had opposed the proposed sale of the land last year by the previous Conservative and Liberal Democrat administration.
He said: "We had to review that decision because, given government cuts and the general economic climate, the council isn't awash with money.
"But we felt the right decision in the end was not to sell the land and actually to retain it for its wildlife value.
"Once you build on something like this it's gone forever.
"We're looking at what sort of regime of active management, if any, we want to put in place and we'll be bringing back a report to the executive in the new year."