Oil spill in River Lark, Bury St Edmunds covers over two miles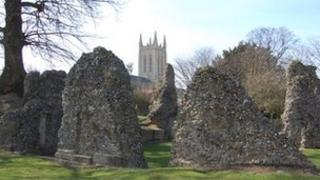 About 5,000 gallons of oil has spilled into the River Lark in Bury St Edmunds, polluting a 2.5 mile stretch.
The Environment Agency said they were alerted on Monday evening and found red diesel entering the river near the Eastern Way Industrial Estate.
It has affected the waterway downstream to the Suffolk Golf & Country Club.
John Harrison, the agency's environment manager, said: "So far, it's been contained although it is a fairly significant stretch."
Environment Agency teams have been using absorbent pads and booms to soak up the oil and prevent it spreading as the river flows towards Mildenhall.
Thick reeds are also helping to contain it and a company has been contracted to continue the clean-up which is expected to last for several days.
Mr Harrison said: "The River Lark has suffered from quite low flows recently and this spill is going to exacerbate any problems.
"We're seeing some fish dying, but hopefully we're going to minimise that."
The Agency said it was carrying out an investigation and would take any appropriate enforcement action.