Animal Health Trust to tackle animal cancer at Newmarket centre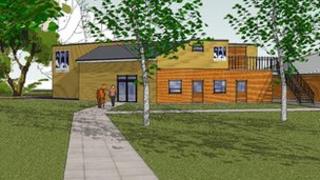 A Suffolk charity has been loaned £1.5m to build a specialist centre to treat animals with cancer.
The Animal Health Trust is using part of the interest-free loan from the Kennel Club to buy a radiotherapy machine for its centre in Newmarket.
Sue Murphy, head of clinical cancer treatment, said the facility will offer a range of treatments for animals that "aren't available elsewhere".
The Kennel Club Cancer Centre is due to open by July next year.
Ms Murphy said dogs will be the main focus at the centre, but the machine can also be used to treat cats and horses.
She said: "We have chemotherapy at the animal health trust but what we don't have is a radiotherapy centre.
Canine cancer
"Radiotherapy can be used very successfully to mop up disease that surgery might leave behind, so that's why we're after the money.
"A radiotherapy centre involves an awful lot of concrete to protect us from the radiotherapy machine which is quite expensive."
Ms Murphy said about one in four dogs and one in six cats suffer from cancer.
"It's the most curable chronic condition we see in cats and dogs, so most are cured by surgery which your general practitioner can offer, but there are more sophisticated treatments that we can use," she said.
"We will be in a unique position of having some very superficial sorts of radiation called strontium which we use for superficial tumours, and the big machine that we're buying is going to allow us to deliver radiation deep into tissue.
"So we'll have a range of options available that aren't available elsewhere."