Suffolk seized vodka contained de-icer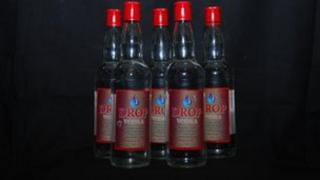 Thirteen bottles of vodka seized by trading standards officials from off licences in Suffolk contained cleaning fluids and de-icer.
Small traces of Propan-2-ol, commonly found in industrial solvents, was found in 70cl bottles of Drop Vodka. Tests could not identify the exact contents.
The cut-price bottles were removed from sale and the owner of two Ipswich shops was given a formal written warning.
The council said the liquid was not deemed unsafe.
"It can be safely be assumed that such spirits are not subject to rigorous quality controls and these are not ingredients usually found in vodka," a spokesman added.
The Drop Vodka label had a fake mark indicating its suitability for the UK and it was an offence to possess or supply the product, he said.