Ipswich 'wine rack' development could resume, says Ben Gummer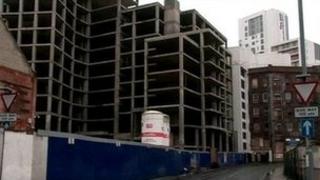 Work could resume on the partially-built Ipswich waterfront building known as the "wine rack", says MP Ben Gummer.
The Regatta Quay project ground to a halt in 2009, leaving an empty skeleton overlooking the waterfront.
The Ipswich MP said the Irish government owns the site after buying debt owed to two collapsed banks, which had lent to the developers.
The Conservative MP said it could be a long process but hoped to be able to make an announcement next year.
'Fiendishly complicated'
The company which had been spearheading the development of the waterfront, City Living Developments (Ipswich) Ltd, went into administration last year.
Mr Gummer said: "It's proved fiendishly complicated to try and unravel the problems which have caused the construction work to stop there.
"Two years ago, when Ireland was experiencing its terrible difficulties, it was because two banks - Anglo Irish and Allied Irish - both of whom lent money to Ipswich developers, went bust.
"What the Irish banks did was to buy all the bad debts of those two banks and within those bad debts are the developments on the waterfront, so they are key in getting the thing moving again.
"What they were struck by is that the rest of the waterfront is almost complete and looks magnificent.
"They could see the potential for finishing that development was considerable.
"They've gone away to formulate a plan and I hope we'll have announcements next year and some sort of plan of action for the development working itself out."