Head teacher Geoff Barton plans Iraq return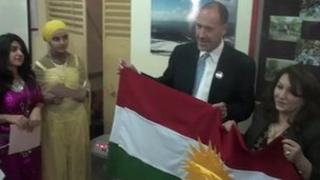 A Suffolk head teacher says young people in Iraq want to learn, but are being held back by the infrastructure.
Geoff Barton, head teacher at King Edward VI School in Bury St Edmunds, was invited to spend five days looking at the education system in Kurdistan.
He said: "What we saw was terrible conditions but a real appetite for high quality teaching and learning."
Mr Barton said he would now like to take students to Iraq to learn about the "very important part of the world".
He travelled to Iraq to observe and advise on how science and physical education are taught, and was joined by representatives from three other UK schools.
They spent five days in northern Iraq and returned at the end of last week.
'Terrible state'
Mr Barton said schools in Iraq worked on a rota system, with girls and boys along with staff members swapping half way through the day.
"Talking to a very feisty head teacher there it drove her absolutely mad," said Mr Barton.
"The school was hers during the morning and then a whole new team came in during the afternoon and she was furious.
"The schools were in a terrible state and it meant she didn't have the ownership that as a head teacher we would want to have."
He said security was not an issue during the trip and that he would speak to the British Council about revisiting Iraq with pupils from King Edward VI.
Mr Barton said: "I think we owe it to students to start giving them opportunities, if they want to go, to go and learn about a very different, very important part of the world, which often dominates the news in a negative way.
"It's time to put the record straight."
Head teachers and officials from Iraq visited King Edward VI earlier in the year.
The trip to Iraq was funded by a British Council and Youth Sports Trust project.