West Suffolk College unveils £1.2m facelift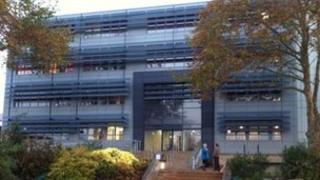 A college in Bury St Edmunds has unveiled a £1.2m facelift.
West Suffolk College's 1960s Suffolk House building has been given a new facade and much of its interior has been remodelled.
Internal glass walls have been added to provide more light and new ventilation, and heating systems will make the building more energy-efficient.
Deputy principal David Howells said: "It's much more modern, attractive to the eye and it improves the landscape."
Suffolk County Council had granted £1.8m to the refurbishment as part of its commitment to University Campus Suffolk (UCS).
West Suffolk College is a partner site of UCS and has more than 700 students studying for degree-level courses.
Mr Howells said the remaining £600,000 would cover the second phase of building work, which was scheduled for next summer and would concentrate on the rear of the building.
He said: "Hopefully the second phase will be easier, because part of the first phase took in quite a lot of the electrics and heating system.
"The second phase is mainly the external new windows and not a lot of internal windows, so it won't be as disruptive."