Tower Ramparts Shopping Centre celebrates 25 years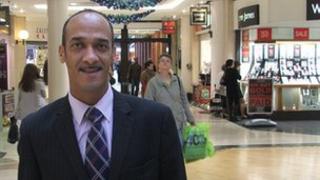 A shopping centre in Ipswich is celebrating its 25th birthday, although many of its smaller units are unoccupied at the moment.
Tower Ramparts is marking its anniversary with a day of events.
The centre has about 15 vacant units, but it is earmarked for expansion in the town centre plan.
Mike Sorhaindo, Tower Ramparts manager, said: "Every 10-15 years we go through recession, but I think we'll come out the other side in great shape."
The celebrations on include the mayor cutting a cake, face painting, 100 free goodie bags and a performance by singer Emilia Quinn, who won the Ipswich Idol competition.
Ipswich Borough Council's draft Town Centre Master Plan, which is out for public consultation, aims to increase the number of shops to offer a more continuous retail link between the waterfront and the town centre.
'Unique selling point'
The plan also recommends that the bus station next to Tower Ramparts is moved to free up space for further retail development.
Mr Sorhaindo said: "There may be a few voids [empty units], but Tower Ramparts is in good shape.
"We need to create space for bigger units who quite clearly have a requirement to come into Ipswich.
"We need to find [the town's] unique selling point, which is a mixture of retail and the waterfront and bridging the gap between the two."
Paul Clement, executive director of Ipswich Central, the business organisation which is working on the town centre plan, said: "The loss of the bus station would be more than made up for by the growth of the shopping centre, linking it by a flyover to a larger Crown car park and providing bus stops in the same location."
John Norman, vice chairman of the Ipswich Society heritage organisation, said: "Town centre shopping centres are changing and will need to change.
"The major stores will need to become leisure facilities and attract people until quite late in the evening."
Mr Sorhaindo said: "If you take the modern shopping centres there is an element of leisure in the form of catering, bowling alleys, gyms etc and all of those are credible things that could be added in the future."