John Peel Centre in Stowmarket reopening after building work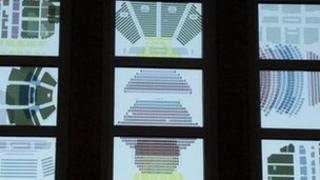 The John Peel Centre for the Creative Arts is reopening, following the completion of a second phase of building work.
The new £1m arts centre in Stowmarket was closed while a new pair of entrance doors and three stained glass windows were installed.
Fund-raising is now under way for the final phase of building work, which would see a mezzanine floor added along with a lift and cafe bar.
The centre reopens on Saturday.
Legendary radio presenter Peel was a long-term resident of the Stowmarket area before his death in 2004.
Andrew Stringer, Mid Suffolk District Councillor and board member, said the line-up for the reopening weekend showed where the centre was heading.
He said: "We've got Handel's Messiah followed by a night of thrash metal - that's setting our stall out, really."
The recent building work was partly funded by £50,000 awarded by the People's Millions.
Mr Stringer said he hoped a further bid would help complete the project.
"We're eagerly anticipating the outcome of a bid we put in for Biffa, for £500,000, and we should know the outcome of that within the next week or 10 days," he said.
Biffaward is a fund which uses landfill tax credits donated by Biffa Waste Services to fund community and environmental projects.