Murderer James Hurley returned to UK after 13 years on the run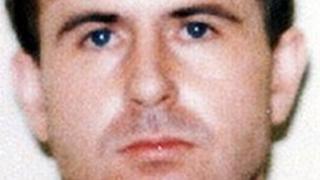 A man who murdered a police officer in Hertfordshire has been returned to the UK after 13 years on the run.
James Hurley, 49, was convicted of the murder of off-duty PC Frank Mason during an armed robbery in Hemel Hempstead in 1988.
Hurley was sentenced to life imprisonment in 1989 but escaped while being transferred in 1994.
He was extradited from the Netherlands, where he had been in custody since 2007, on Wednesday.
Securicor robbery
He was returned by tactical officers and is now back in a UK prison.
Hurley was one of three men arrested after the murder of 27-year-old PC Mason on 14 April 1988.
PC Mason was off duty when he intervened in the armed robbery on a Securicor van.
Hurley, Perrie Wharrie, now 52, and Charlie McGhee, who has since died in prison, were all convicted for the crime.
But on 16 February 1994, Hurley escaped during a transfer on a prison coach to HMP Wandsworth.
Hurley was arrested by Dutch police during a raid in The Hague in November 2007.
He was found in possession of a quantity of Class A drugs and a firearm.
Although he gave a false name, Hurley was identified through DNA and his fingerprints.
Since his arrest, British officers have been working with Dutch authorities to extradite Hurley so that he will serve his sentence for PC Mason's murder.