Ex-hostage Terry Waite reflects on 20 years of freedom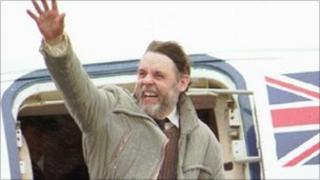 As a hostage he endured a mock execution and torture, but two decades after his release Terry Waite believes "many people in the world have suffered much more than I have".
Mr Waite was kidnapped in January 1987, during a trip to Beirut in Lebanon, where he was sent as envoy to the Archbishop of Canterbury, to negotiate the release of several hostages.
During the majority of his 1,760 day spell at the hands of his captives he was starved of contact with the outside world.
"I look back and say, 'my goodness, did I go through five years of that?'," Mr Waite told BBC Radio Suffolk from his home in the village of Hartest, near Bury St Edmunds.
"The thing is you never know what's coming in life, you never know how you're going to cope with it.
"Many people have said to me 'I couldn't do what you did' and I always say 'don't you believe it'.
"When you get pushed against a corner you probably find you've got more resources than you know."
Mr Waite said he realised he was taking "an enormous" risk when he took up a Hezbollah cell's invitation to visit the western hostages, who he had been told were sick.
Mr Waite had been suspected of having knowledge of deals between Iran and USA, and during the first year as a prisoner he said he was beaten on the soles of his feet with cables and threatened with execution that turned out to be a scare tactic.
He said he always tried to put his own suffering in perspective, keeping in mind that while he was held in chains slaves were born and would die in them.
Much later, he said this was brought home to him during a visit to the mother of Ken Bigley, who was taken hostage in Iraq before being killed in 2004.
He said: "She was upstairs in a little two up, two down, in bed, and she said 'nothing can convey what I feel at this time'.
"She then said 'my suffering is no different to a mother who has lost her child in conflict in Iran, Iraq or Afghanistan'.
"I thought that was truly remarkable. For a lady to say that, to express the fact that we're all human beings, whatever our race, whatever our culture, whatever our background."
Keeping such a rational view has helped Mr Waite avoid flashbacks and dreams about his experience in Lebanon, which came to and end in 1991.
Support for homeless
He said he gave one main interview on his return to England before retreating for a year, and slowly getting back to normality.
"I followed good advice to talk about it, bring it to the surface and manage it rather than be managed by it," he said.
After his release, he put pen to paper and produced the book he had spent years writing in his head, which was followed by several years of lecturing, travelling and working for a number of organisations including Hostage UK, Habitat for Humanity and the homelessness charity Emmaus.
"I do a lot of work for Emmaus for the homeless," said Mr Waite. "We're opening a new community in Norfolk and I hope it won't be long before we open a new one in Ipswich.
"Homeless people who come can, providing they leave the dole behind, engage in work according to their capacity and will help themselves back into the wider community."