Ipswich shops expansion plan put to public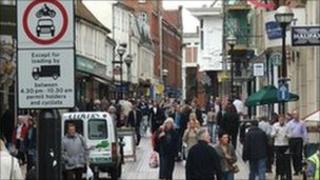 Ipswich's planners are hoping the public backs its town centre blueprint to develop more retail areas.
The main aim is to provide more shops to link the town centre and waterfront.
The borough council is seeking people's views through its draft town centre master plan consultation.
Councillor Peter Gardiner, planning spokesman for the ruling Labour group, said: "It gives us a blueprint for us to attract developers who actually have the money to transform the town."
The main recommendation in the draft plan is to develop three areas for retail: the Merchant Quarter between the town centre and the waterfront, the Tacket Street car park and the Tower Ramparts bus station, allowing the retail area to grow in a north-south direction.
The 15-year draft plan acknowledges that Ipswich is ranked behind Norwich and Cambridge as a regional centre.
'Significant opportunity'
Mr Gardiner said: "I'm not convinced that we've lost a lot of ground and we were ahead of the game when the Buttermarket and Tower Ramparts shopping centres were put up.
"We really want to hear the views of the people and we want that to be meaningful consultation."
The plan also recommends improving the open-air market, allowing more street cafes and outdoor public areas, building more medium sized short-stay multi-storey car parks, moving the two bus stations to a single site on Tacket Street, refurbishing the museum and developing office space around the Ipswich Village/Portman Road area.
Dave Muller, chairman of the Ipswich Chamber of Commerce, said: "This is a very significant opportunity.
"It is important we work together to maximise the benefits for the proposed long-term investment in the town and the important impact it will have for business.
"This is the start, not the end, of the debate."
The public consultation runs until 23 December and the final plan should be adopted by March 2012.