Suffolk magistrates' courts owed almost £5m in fines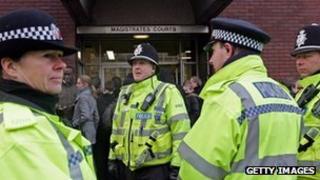 Suffolk's magistrates' courts are owed almost £5m in unpaid fines, a Freedom of Information request has revealed.
The figures obtained by BBC Radio Suffolk show that at the end of September £4,911,709 was unpaid, up £329,092 from the same month last year.
There were almost 12,000 outstanding accounts in Suffolk.
Her Majesty's Courts and Tribunal Service (HMCTS) said it was "working to ensure clamping down on fine dodgers is a continued priority nationwide".
The HMCTS said magistrates were looking at ways of collecting fines on the day they are imposed and also making it easier for people to pay, including an online system.
'Shockingly low'
Suffolk and Norfolk Victim Support said the issue of unpaid fines needed to be addressed.
Kate Biles, divisional manager, said: "The financial impact of crime on victims can be huge.
"Compensation orders and court fines will usually only represent a small proportion of the cost incurred by many victims which is why when these are imposed at minimal repayment rates, or not repaid at all, victims and their friends and families can feel very let down by the justice system."
Ben Gummer, Conservative MP for Ipswich, said he hoped the Legal Aid, Sentencing and Punishment of Offenders Bill would help.
He said: "The recovery of fines is shockingly low - it's a scandal that the government must address."
Magistrates' courts are able to hand out a maximum fine of £5,000.
The Sentencing Council says fines must reflect the seriousness of the offence and also take into account the financial circumstances of the offender.
There is also a victim surcharge. If an offender does not have enough money to pay the total financial penalty, the priority of payment is to cover the compensation, followed by the surcharge, fine and costs.