Sudbury silk hangings celebrate town's industrial history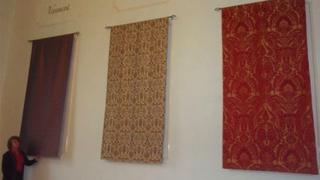 A Suffolk town's history of silk weaving has been celebrated with a display of wall hangings.
Local companies have presented six silk hangings to Sudbury Town Hall for the room where weddings and civic meetings take place.
Vanners, Stephen Walters and the Gainsborough Silk Weaving Company have provided two hangings each.
Silk production was brought to East Anglia in the 1700s by French immigrants who moved from London.
Bruce Crabtree, sales director at Stephen Walters, said: "We were keen to promote an understanding of the importance of the industry to Sudbury in terms of its history and as a current employer.
"China and India mass produce fabric at a low price, but Sudbury stays ahead by putting a lot of investment into design, innovation and skills.
East Enders
"Our job is to try and keep our products at the forefront of the luxury fashion and interiors industries across the world."
The three silk firms, who employ about 250 people between them, have all donated the hangings free of charge.
Sue Brotherwood, Sudbury town clerk, said: "The idea was first mentioned by a former mayor Peter Goodchild because the Assembly Room at the town hall has got panels and they could do with brightening up, and what better way than with some silks from our local factories?
"We've had a sign writer do some lovely signs over the top of the hangings in keeping with the room."
The silk industry was brought to East Anglia in the early 1700s by the French Huguenots who had initially set-up in the East End of London.
Mr Crabtree attributed the move to the availability of cleaner water, cheaper power via watermills and windmills and cheaper skilled labour from the existing wool industry, which had peaked in the 16th Century.