Ipswich Brewery Tap pub issues own bonds to raise money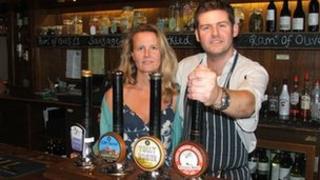 A pub in Ipswich is to issue its own bonds after failing to get bank loans.
The Brewery Tap, on the waterfront, will sell the £500 bonds to customers, who will get a 10% discount on food and drink in return.
Mike Keen, landlord, said: "We would consider putting the pub on the market if we can't raise this money."
Peter Herd, an independent financial adviser, said any investors would have to consider the possibility they could lose their money.
Cable thieves
The landlord said he hoped to raise £20,000 and claimed he would start repaying bond holders their £500 from June 2012.
The pub said the bonds were effectively loans made to them by customers, who would get a financial return in the form of the 10% discount rather than as interest.
Mr Keen said the pub had broken even in October, but they had to improve cash flow.
He said they had lost money last year when thieves stole cabling from the derelict former Tolly Cobbold Brewery next door, which meant the pub had to use an electricity generator for two months.
The landlord who took over the pub two years ago, said: "You hear the government banging on about how they're pressurising the banks to loan to small businesses to kick-start the economy, and it's just not working.
"Customers have said 'if you want a loan or anything let's do it', so now we've structured it into a proper deal.
Names from hat
"Bond holders would buy them in the knowledge they're helping their local at a time when about 27 pubs are going out of business each week."
Mr Keen said the repayments would be made, at the rate of one bond each month, by drawing names from a hat.
He added that the scheme would not begin until there were pledges to buy 20 bonds, although customers could buy more than one.
Peter Herd, independent financial adviser at Essential IFA in Ipswich, said: "It's a novel idea, but I think you would need to be a regular customer or friend of the pub and be prepared to lose the investment, as all investments are subject to potential loss.
"I would like to know how the bond is secured because this is not a regular corporate bond, so if the company went bust, what security has the client got?
"It sounds like something for supporters of the Brewery Tap, rather than an investment opportunity for the general public."