Group appeals for full restoration of Broomhill swimming pool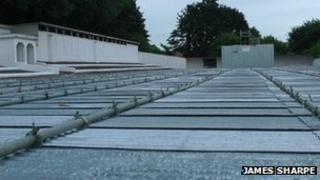 A group campaigning for the full restoration of Broomhill swimming pool in Ipswich has taken out a full page newspaper advert.
Broomhill Pool Trust used the opportunity to call on Ipswich Borough Council to save the pool when it decides its fate on 22 November.
The Grade II listed facility opened in 1938 but has been closed since 2002.
A council spokesman said the claims made in the advert in the East Anglian Times were "not accurate".
Mike Read, president of Broomhill Pool Trust, said: "After 10 years fighting to have our beautiful, iconic leisure facility restored, I think we're all a little apprehensive that the council takes the correct decision."
'Half the pool'
The trust's preferred option would see the 50m pool and surrounding area fully restored and also have a year-round fitness suite added.
Ipswich Borough Council has earmarked £1m of funding for the successful project.
Mr Read said: "There's a borough scheme to restore parts of the facility, to cut the pool to 25m and develop the existing car park for housing.
"They could also go for basic repairs and just make the facility operational again. That would be wonderful but it would be extremely expensive - more expensive than option one.
"It's already costing the tax payer £50,000 to £100,000 a year just to mothball the pool."
An Ipswich Borough Council spokesman said the options the trust had printed in the newspaper were "not accurate".
He said: "This matter will be discussed at a meeting of the council's executive on 22 November when the pros and cons of all options will be examined."