St Edmundsbury Cathedral's organist Daniel Soper arrives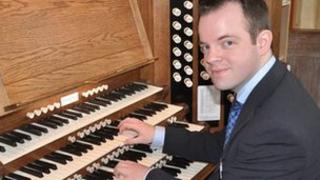 St Edmundsbury Cathedral's new organist has taken up his post with the aim of making the £1m instrument his "baby".
Daniel Soper, 28, will be responsible for playing at most services at the cathedral in Bury St Edmunds.
An organ and loft renovation programme was completed last year as part of the Millennium Project which added a tower to the building.
Mr Soper said: "I'm really excited and I've got a brand new organ which I have to get to know and get to love."
Mr Soper's last job was assistant director of music at Dartford Parish Church, Kent.
Unique sounds
His musical career also includes being a organ scholar in Croydon, Chelmsford Cathedral and Corpus Christ College in Cambridge.
He has also been assistant director of music at Rochester Cathedral, Kent.
Mr Soper said: "I want to make it 'my baby' by choosing the best sounds, that might be unique, so that people think of the organ as linked to me.
"Before I researched and applied for the job, the only time I'd visited Bury was a week visiting with another choir, so I don't know much yet.
"It's a privilege to be working in the cathedral every day with a service, even if sometimes we might be singing for three or four people, because you're continuing a tradition that's been going on for years and years."
Mr Soper has appeared as organist or musical director on BBC television's Songs Of Praise and Radio 3's Choral Evensong broadcasts.
He said his favourite solo organ music is from 20th Century English composers such as Howells and Stanford, but his chief love is accompanying a choir with music by Elgar and Stanford.
James Thomas, director of music at the cathedral, said: "He brings with him considerable experience as an organist and conductor and will be of immense help in the organisation of the cathedral's provision of music."