Children in Need helping 10 Suffolk projects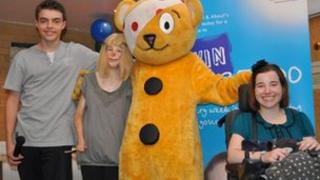 More than £415,000 raised by BBC Children in Need is currently being spent on projects in Suffolk.
Out & About, a charity which helps disabled children carry out everyday activities, received £83,725.
Ipswich teenager Terri Calvesbert, who suffered 85% burns to her body when she was a year old, said the charity helped her go shopping and to Guides.
"It helped me feel more confident and do things on my own - If I get nervous they'll help with that," she said.
Director of development Kate Higgs said the money from Children in Need will help support 100 children over a three-year period.
Ms Higgs said: "Without them we wouldn't be able to support all those children."
Increased confidence
BBC Children in Need has previously given £1.9m of grants in Suffolk.
Lewis Old and Rebecca Jackaman also benefited from the support of Out & About.
The pair said they struggled with confidence.
Lewis said: "I first came to Out & About a couple of years ago. I used to have problems with getting on the bus and managing my own money but thanks to Out & About they've made me accomplish it."
Rebecca said: "They give us a volunteer who supports us if, say, we want to go into town. They'll come with us and they'll be there if you need any assistance.
"As time goes on, if you're feeling a bit more confident they'll step back a bit further until you don't need them anymore."
Dads Group
Out & About is one of three projects in Suffolk to be awarded Children in Need funding this year, while 10 charities in total are currently receiving funding.
Home-Start Mid Suffolk was given £24,334 to fund groups offering support, play and activities for children and families.
John Carey takes his two boys to the Saturday morning Dads Group at Stowmarket Community Centre.
He said fathers sometimes take a secondary role in childcare compared to mothers.
"Sometimes you do feel like you're being left behind a bit, and knowing that other fathers feel the same way takes you away from feeling alone and makes you feel that we're all the same," said Mr Carey.
Julie Sullivan, Home-Start group co-ordinator in Mid Suffolk, said: "This is a new way we're branching out to recognise socially-excluded parents who are perhaps in rural locations.
"They're not getting a chance to meet other parents and their children aren't getting a chance to play together."
Karibu African Women's Support Group has also been awarded funding from Children in Need in 2011 - a total of £25,257.
The money helps run a supplementary school at Murrayside Leap Centre in Ipswich for 3-19 year olds.
Anita Harris-eze said the Saturday school improved her core subjects but also helped her get involved with activities such as dancing and basketball.
She said: "Being with Karibu helped get my grades up so I could go to university."
Ms Harris-eze, who will be 19 in November, is now helping to teach the young people.
She said it is important to connect with them.
"I think it's more getting to their level and seeing what's interesting to them," she said.
"When I'm teaching them and I see that they're not interested, I divert to something they're interested in - like relating sport to maths."