Children in Need: Ipswich woman could change her name to Clare Bear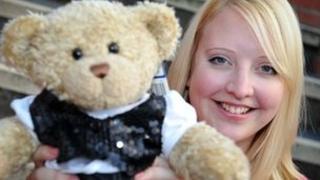 An office worker has pledged to change her name, by deed poll, to her nickname of Clare Bear if a colleague raises enough money on Children in Need Day.
Clare Joanne Hubert, 25, who works at UK Power Networks in Ipswich, would become Clare Bear Hubert.
"My nickname has followed me everywhere since I was a teenager and I've been called worse things, so I quite like it," she said.
Dean Turner, 28, will have to raise £3,000 while dressed as a bear.
Ms Hubert said: "If Dean can raise the money, I'm more than happy to change my name as it's a really novel way to support the charity.
"I don't see it as a big thing whereas everyone else seems to - my parents don't seem to be upset because they know what I'm like.
"The deed poll office said you don't actually have to change any of your documents such as passports or driving licence which would be very expensive."
Children in Need Day is on 18 November.
Mr Turner said: "I plan to spend the entire day at work dressed up as a bear.
"In addition, I'll also be using lots of social networking sites to spread the word and hopefully boost my fund-raising."
Clare, who lives in Great Blakenham, said it would cost her £15 to change her name.