Suffolk's highway services could go private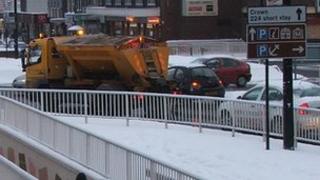 Suffolk's highway services could be run by a private firm, as the county council looks to save money.
The services include roadworks, winter gritting, road safety education and street lighting.
The Conservative-run county council said it spends about £40m a year on highway services and the move could save £4m a year.
The council's cabinet will decide whether to press ahead with the private firm option next week.
Two other options - setting up a new company which is fully owned by the council or setting up a new company which is jointly owned by the county and a private firm - are also being looked at.
Councillor Guy McGregor, who has responsibility for roads, said: "It's about delivering a quality service within the price we can afford.
"The private sector is more and more experienced at delivering that for us.
"There's no question of cutting corners, it's a question of making sure the contract we have with the prospective contractor is robust."
If agreed, the contract with a private firm would begin in April 2013.
The county council is responsible for all roads maintenance except for the major trunk roads.
In Suffolk, the A14, A11 and A12 (north of Lowestoft and south of Ipswich) are maintained by the Highways Agency.
The Conservative-run county council has agreed to make total cuts of £110-125m over four years, following a reduction in its grant from central government.