Sudbury health centre plan backed by planning councillors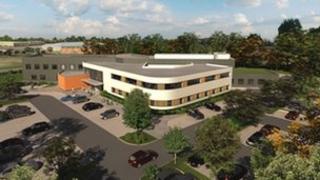 A £10m health centre to replace Sudbury's two community hospitals has been given the go-ahead by councillors.
Work to build the community health centre, at Church Field Road, Chilton, will get under way if the bid gets full backing by Babergh District Council.
It will replace the Walnuttree and St Leonard's hospitals as well as the Acton Lane Clinic and Siam GP surgery.
Dr Paul Watson, NHS Suffolk's chief executive, said: "The approval is tremendous news for people in Sudbury."
NHS Suffolk will have to find a developer to finance and build the centre, and rent it back to the NHS for an estimated £300,000 a year.
The centre will have bus links and a car park with 180 spaces.
Dr Watson said: "It has taken many years for the project to reach this stage and despite the financial pressures facing the NHS, we are committed to the development going ahead."
Proposals in 2005 to close the two community hospitals, and rely on services provided at the West Suffolk Hospital in Bury St Edmunds, provoked a public campaign to save them.
Sue Brotherwood, a founding member of Working and Acting Together for a Community Hospital (Watch), said: "We're delighted with this news because it means the services provided by the community hospitals remain in Sudbury.
"But we're cautious because we've been at a similar point in the past where planning was approved for the People's Park site and then that did not materialise."
Peter Thorogood, chairman of the Sudbury Society, said: "The new health centre is a great idea and we need it, but the Walnuttree has been a wonderful hospital and it is part of the history of this town."