Plans for the future of Suffolk's coastline approved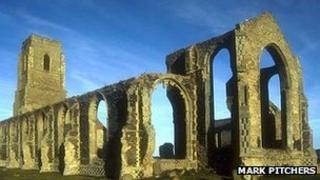 Plans to tackle erosion and flooding along Suffolk's coastline have taken a step closer to being fully approved.
Suffolk Coastal District Council's cabinet backed the Shoreline Management Plan, which would run until 2105.
The proposals say it is too expensive to protect all 45 miles of the coast so areas including Covehithe and Benacre Broad will not be defended.
Waveney District Council is expected to provide the final sign off when its cabinet meets next Tuesday.
The review of the coastline between Lowestoft Ness and Landguard Point in Felixstowe began in 2007, with the plans finalised last year.
Sea defences at Lowestoft, Southwold and Felixstowe would be maintained and the main area of Kessingland, along with the A12, would be defended.
Erosion threat
About 1,000 acres (400 hectares) of land between Kessingland and Southwold would be left to the mercy of the sea.
Andy Smith, Conservative deputy leader of Suffolk Coastal District Council, said: "The key aspects are that virtually the entire populated part of the coast will be protected."
Mr Smith said the future of Covehithe had proven controversial.
"The cliff is a Site of Special Scientific Interest, where it's felt by Natural England particularly, that the cliff should not in the long term be held," he said.
"The problem is that it's another area that has continued to erode for many years and SSSI or not, you can't look at every piece in isolation - you have to look at the jigsaw as a whole.
"That's why we have a shoreline management plan, which I think is a positive move from everyone doing their own thing."
'Sense of injustice'
Suffolk Coastal MP Therese Coffey, Conservative, said a landowner at Covehithe had been told he could not fund sea defences for the village.
She said: "The landowner has been blocked from doing so on the pretext that they need his land to disappear in order to help save other places - that feels like a sense of injustice.
"Just because there are certain kinds of fossils in there, or something like that, I'm not sure that outweighs the farming that happens there.
"In 10 or 20 years' time the Covehithe church will fall into the sea, and it seems a shame for that to happen if there is a scheme that can be funded by the landowner that could be trialled to make sure it doesn't have a detrimental affect on Southwold."
Community group Suffolk Coast Against Retreat is also concerned about Covehithe's future.
Chairman Graham Henderson said the loss of the village would have a knock on effect to local habitats for birds including bitterns.
He said the plan is being challenged in the European courts.
"The challenge is based on the fact that to actually abandon sections of the Suffolk coast will mean that they will be allowing what are currently fresh water areas such as Easton Broad and Benacre Broad to become saline," said Mr Henderson.
"The European Habitats Directive states they must replace those fresh water habitats elsewhere in the country.
"It's estimated that could cost £20m to replace those habitats.
"If it was spent on sea defence, they wouldn't have to replace the habitat."