Lavenham Royal British Legion opens Garden of Remembrance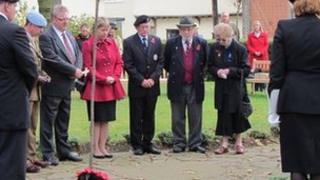 The father of a Suffolk soldier who was killed in Afghanistan has been at the opening of his village's Garden of Remembrance.
The lawned area is at the entrance to the Prentice Street Car Park just off the Market Place, Lavenham.
The local branch of the Royal British Legion has opened the garden for Remembrance Sunday on 13 November.
Tony Woodgate, the father of Lance Corporal of Horse Jo Woodgate, was at the opening ceremony.
Mark Consadine, chairman of the Lavenham Branch of the legion, said: "The actual war memorial is in Lavenham church and we always have a service there and parade from the Market Place.
"Seeing the Garden of Remembrance at Wootton Bassett last year, I thought we could do something locally."
Prince Harry
L/CoH Woodgate was killed by a hand grenade while he was on patrol in Helmand province in March 2010.
He served with Prince Harry in the Household Cavalry Regiment.
He spent about half his life in Lavenham and a plaque dedicated to him will be put in the Market Place.
Tony Woodgate said: "I'm immensely proud [of Jo] and I think that pride has overtaken the grief to some extent.
"I went to Wootton Bassett last year and saw Prince Harry put a cross down for him and it's nice to have something closer to home and in the village where Jo lived."
Poppy Crosses, for planting in the garden, are available at a number of shops in Lavenham as well as at the Tourist Information Centre.
The garden will be cleared away on Monday, 14 November.