Lovejoy's Long Melford sees antiques stores close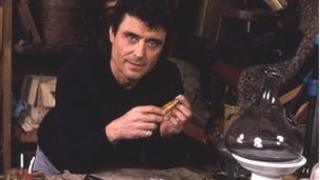 The Suffolk village which inspired the BBC television series Lovejoy has seen three quarters of its antiques stores close.
In the early 1980s there were about 20 antique businesses in Long Melford, mainly on the High Street.
That figure has dropped to five.
Antiques dealer Sandy Cooke said: "People just don't want to spend the money on expensive bits of furniture, older people are downsizing and the young people seem to want Ikea only."
Mr Cooke said he would be closing at the end of the year after 32 years in Long Melford.
Shrinking market
"Many years ago we had lots of foreign buyers as well as lots of serious English collectors," he said.
"The export market is non-existent."
Alex Lyall, of Lyall Antiques, said: "Every town and village in the country that sells antiques has also shrunk, so it's not unique to Long Melford."
The BBC series Lovejoy - featuring the exploits of the eponymous antique dealer, played by Ian McShane - ran from 1986 to 1994, had its production office based at The Bull in Long Melford and used locations in Suffolk and Essex.
Linda Goodban, clerk at Long Melford Parish Council, said: "It is a shame but in order to remain a sustainable community you have to change with what people are looking for.
"I think there are always people who remember Lovejoy because it was one of those programmes that caught the imagination.
"Visitors can still find the antiques shops, there's just not as many of them but they are still good and offer the same service and you can almost transfer yourself back into that era."
Mr Cooke said: "I'm not going to have any regrets, it's just unfortunate that the world's moved on and maybe I haven't and things have died in the trade.
"But I am going to miss the dealing."