Charity builds 'affordable' Dunwich rental homes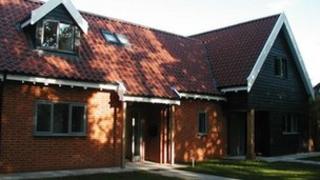 A Dunwich charity has built two houses in the village as it fears local people have been priced out of the market.
Dunwich Town Trust will charge £495 a month to rent out each of the two-bedroom semis.
Clerk John Cary said it was the first time a charitable trust had built affordable houses in East Anglia.
He said: "Dunwich is a honey-pot village, the average house price is £0.5m, so people on ordinary incomes can't afford to live here."
Mr Cary said the houses were spacious, with gardens and views over Dunwich's heathland.
"Part of our brief to the architects was to make these 'lifetime homes'; all the doors can take wheelchairs, the bathrooms are downstairs, so it could be for young families or retired people."
'Right arm'
He said about 100 people are on the electoral roll in Dunwich but that only half of them live in the village.
"People who work locally just can't afford to live here," he said.
Roger Gilles, of Ipswich architects Barefoot & Gilles, said: "Most people would give their right arm for a house like this.
"With the price of housing and the amount of housing available, in villages like this, it's impossible for young people to start on the ladder."
Mr Cary said that so far 12 people had applied to live in the houses.
He said a panel would review the details of the applications, without knowing the individuals' identity, before deciding on their tenants.