Policeman and dog stabbed during arrest in Ipswich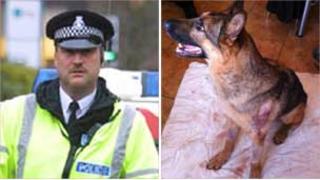 A man has been arrested after a police officer, police dog and another man were stabbed in Suffolk.
Police were trying to arrest a man suspected of a stabbing when PC Steven Jay, 52, and the dog were injured shortly after 20:00 BST on Tuesday.
The dog was stabbed in the leg and the policeman suffered injuries to his arm as officers used a Taser to detain the suspect in Nacton Road, Ipswich.
A 21-year-old man remains in custody, police said.
A Suffolk Police spokeswoman said: "Following information gathered, police tracked a man believed to be the offender and stopped him in Nacton Road.
"He was agitated, in possession of a knife and officers attempted to detain him by using a Taser.
"A police dog and handler were at the scene and in the attempts to arrest him, both the animal and the police officer were stabbed."
PC Jay was taken to Ipswich Hospital and is recovering at home.
The six-year-old German Shepherd called Aman underwent emergency surgery at a veterinary clinic and is said to be recovering well.
The 47-year-old man who was stabbed was also taken to Ipswich Hospital with a stomach wound and was said to be in a stable condition.