Hunt for Luke Durbin 'driven' by mother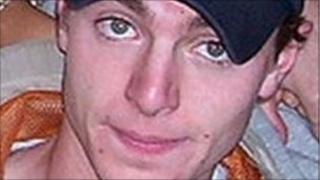 A mother's determination to find out what happened to her son has "driven" the police investigation into his disappearance, a detective has said.
Nicki Durbin, 42, of Hollesley, Suffolk, has campaigned for more than five years after 19-year-old Luke Durbin vanished following a night out in Ipswich.
Police started a review of the case last November and on Monday carried out more house-to-house inquiries as they seek to piece together Mr Durbin's movements.
The teenager was last seen on CCTV at 04:00 BST on 12 May 2006 in Dog's Head Street after leaving a nightclub in the town.
There have also been unconfirmed reports that he was in a dark blue Renault Megane in nearby Woodbridge the next day.
Since her son's "out of character" disappearance, Mrs Durbin has launched a Find Luke website, led a major poster campaign and taken part in a Parliamentary debate on missing people.
'Constant state of grief'
Her efforts have helped ensure the case of Mr Durbin has become high profile and that it has received huge exposure in Suffolk and the surrounding area.
Det Ch Insp John Brocklebank, the Suffolk police officer leading the investigation, said: "I have nothing but admiration for Nicki Durbin and the way she has conducted herself and the way she has done everything possible to find her son.
"Nicki Durbin has driven the hunt for Luke."
Police started a review of the case in November following the creation of a new Norfolk and Suffolk major investigation team.
With no evidence that Mr Durbin has been harmed in any way, the disappearance remains a missing person inquiry.
"We are getting some positive responses, are making progress and are getting close," Mr Brocklebank said.
"Somebody locally, I believe, knows where Luke was. I want to be confident and assured that I have covered all the bases."
Mrs Durbin said she would continue trying to find out what happened to her son.
"The thing with a family of a missing loved one is you are just in a constant state of grief," she said.
"You can't go through the process of mourning your child.
"I would love it if Luke walked around the back of the house laughing. That would be the best outcome but I think the reality is that's not going to happen.
"I won't rest until I know what has happened."
Missing person review
Mrs Durbin said her son had been in "good spirits" before his disappearance and had no reason to run away.
"This was completely out of character for Luke - it was just not something Luke would do," she said
"I know it sounds a cliché but Luke really did walk out of the door laughing.
"He had been working at a greengrocer's in Aldeburgh and was in such good spirits. It makes absolutely no sense."
Each year more than 10,000 missing person reports remain unsolved for more than a month, according to the charity Missing People.
Chief executive Martin Houghton-Brown said the case of Mr Durbin highlighted why police should review other missing person inquiries.
"The charity is very pleased for Nicki Durbin that detectives issued a new appeal for information on Luke's disappearance, and decided to renew house-to-house inquiries," he said.
"This news gives hope not just to them, but to every family suffering the same situation.
"We hope that as the government prepares the national missing persons strategy, it will recognise that many long-term, complex cases benefit from a review of the evidence as this can lead to a successful resolution."