Kingfisher flies from Poland to Orford Ness to set record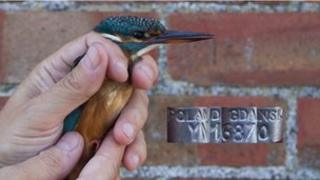 A kingfisher found at a Suffolk nature reserve is being called a record breaker.
The bird was caught and released at the National Trust's Orford Ness reserve, more than 620 miles (1,000km) away from where it had been ringed in Poland.
The current record for the distance the species has migrated between the UK and the continent is 603 miles (970km).
The National Trust said cold weather could have led to the bird migrating from Eastern Europe.
A more accurate distance will be known when the trust discovers where in Poland the kingfisher was ringed.
Duncan Kent, the National Trust's warden for Orford Ness, said: "We have a regular ringing programme which is run by volunteers who come up from the Landguard Bird Observatory in Felixstowe.
Ringing programme
"It's the longest record we know of. They do migrate and there have been others found that have been rung in Germany and Spain."
Mr Kent said the ringing of the birds provided information about how long they live and how far they travel, but admitted it was not a perfect science.
"Obviously you only ring a tiny proportion of the number of birds flying around.
"But by doing it over a long period you do build up a huge amount of information."